Best Collagen Supplements in the Philippines
Did you know that the most common form of protein in our bodies is collagen? Yes, you heard it right. Our bodies produce collagen. However, as we age, our bodies make less and less. Here is where collagen supplements enter. We gathered the best collagen supplements you can buy in the Philippines.
Protein Collagen supports all the cells and tissues in your body. It naturally creates collagen, which gives our skin a plump, wrinkle-free appearance and helps make our hair thicker, our nails sturdy, and our bodies more agile while we are young. However, this natural collagen begins to deteriorate as we age. You may notice thin hair, nails, joint stiffness, and skin that sags or seems drab.
While it is appealing to think of collagen as the secret to feeling younger, it also plays a crucial role in repairing damaged bone, muscle, and cartilage. However, there are several things taking collagen may or may not accomplish for you.
Find out which collagen supplement is right for you and how to maximize its benefits.
Buying Guide: Best Collagen Supplements in the Philippines
If you wish to include one in your diet, a wide array of collagen supplements are available on the market. It can get a little intimidating, especially for people who are just starting. When shopping for a quality supplement, we urge you to consider the following factors:
Type
Although there are at least 16 forms of collagen, most of the collagen in the body is type 1, 2, or 3. Which one you pick is determined by your collagen goals:
Types 1 and 3 are primarily present in the skin, organs, and bones. The most frequent variety is bovine collagen (from cows), which comprises types 1 and 3. Additionally, fish collagen contains Type 1 collagen.
Type 2 is mostly in cartilage and benefits the skin the most. Collagen from chickens includes type 2 collagen, which is said to boost joint health.
Source
Since collagen is a derivative of animals, such as bovine (cow), chicken, fish, and eggshells, it is essential to analyze how suppliers raise these animals. Quality and long-term viability are critical. Look for items from grass-fed or pasture-raised animals, as well as sustainably sourced seafood.
Flavor
Collagen supplements are available in both flavored and unflavored varieties. The most crucial consideration here is how you will approach it.
If you combine it with water, a smoothie, or your morning acai bowl, the taste (or lack thereof) might make or break your experience. Choose the one you like and you are more inclined to continue your regular supplement habit.
We recommend that you buy collagen supplements in small amounts at first. Then, after you find what suits you best, buy its larger variety.
Use
Think about the best method for ingesting collagen. Do you want it to dissolve slowly in liquids, or do you want it in your smoothie or overnight oats? Maybe you do not want to use powders and would instead take a tablet, a gummy, or buy a readymade collagen beverage to sip on during the day.
Collagen supplements nowadays come in different forms. So, mix and match based on your routine.
Ingredients
You want as few ingredients as possible, especially without sugar or needless additions. Keep a watch out for extras like vitamin C (which aids in collagen formation) and hyaluronic acid (which provides added skin and joint benefits).
Third-Party Certification
Since the FDA is not compelled to evaluate the quality and safety of these supplements, independent testing might be helpful. Certification by independent laboratories shows that the product is safe and effective in its intended use. Keep an eye out for the USP, NSF, or UL symbol while shopping.
Best Collagen Supplements You Can Buy in the Philippines
Collagen is a versatile supplement that you may add to various foods, including smoothies, meals, and even coffee. When taken, it gives your body a lot of health benefits. The following are the best collagen supplements you can buy in the Philippines:
Belo Nutraceuticals Collagen Powder Drink
Website: Belo Med Shop | Product form: Powdered drink | Core Ingredients: Marine Collagen (5000 mg per sachet), Hyaluronic Acid (20 mg per sachet) | Flavor: Unflavored | Shelf life: 24 months | Price: ₱1,099
This collagen supplement from Belo Essentials Philippines has excellent anti-aging properties. Each sachet includes 5000 mg of superior marine collagen and is enriched with hyaluronic acid.
Every drink claims to decrease fine lines and wrinkles, improve skin elasticity and suppleness, and combat skin aging signs. We like how this powdered drink comes in sachets! It is a lot simpler since you would not need a scoop to figure out how much you will need for one glass. It is less hassle and less messy!
Mixing this product into your daily routine is as easy as adding one sachet to your favorite cup of joe, a bowl of soup, or a smoothie. Even better, it comes in melon and strawberry smoothie tastes! Yummy!
Compared to the high cost of unhealthy desserts like sugary shakes and sundaes, these smoothie varieties are a good value. One Belo Collagen Powder glass may remind you of the renowned Korean fruit ice cream, so consider it a treat and include it in your regular diet.
---
Ivi Premium Collagen Drink
Website: ivi collagen PH | Product form: Liquid Drink | Core Ingredients: Water, Fish Collagen Peptide, High Fructose Corn Syrup, Phosphoric Acid, Muscat Grapes Flavoring, Elastin Bonito, Peach/Apple Flavoring | Flavor: Peach or apple flavor | Price: ₱2,140
We are often exhausted, mainly when we are occupied with the daily grind and do not get enough sleep. But do not worry about looking exhausted since this drink boosts collagen synthesis, making you appear rested even if you have pulled an all-nighter!
It not only makes your skin seem plumper, but it may also smooth fine wrinkles and brighten dark spots. It also keeps your skin hydrated, giving you that healthy shine. All you have to do is drink one bottle after each meal. When taken regularly, you will notice results in a matter of weeks!
A box contains ten (10) bottles of Ivi Premium Collagen Drink.
---
The Collagen Tablet by Shiseido Collagen
Website: Shiseido | Product form: Tablet | Core Ingredients: Low molecular fish collagen, lingonberry, strawberry seed, and citrus unshiu | Flavor: Unflavored | Shelf life: 1 year | Price: ₱3,000
The Collagen Tablet by Shiseido Collagen is a collagen tablet that improves the appearance of your skin by making it look younger and healthier. Since the powder has no flavor or odor, it is simple to dissolve and include in your everyday diet. Shiseido used strawberry seed extract, satsuma mandarin extract, hyaluronic acid, and Vitamin C to formulate this collagen powder.
Its high-quality components help to revitalize, heal, and treat your skin. Collagen and hyaluronic acid alone are a potent combo for mending and treating wounds more quickly. Moreover, vitamin C plumps and tightens your skin, giving you a youthful radiance.
---
Wellspring Collagen Gummies with Biotin
Website: Wellspring | Product form: Vitamins / Gummies | Core Ingredients: Collagen 500mg, Glucose Syrup, Sugar, Bovine Gelatin, Modified Starch, D-Sorbitol Solution, Citric Acid, Malic Acid, Sodium Citrate, Vegetable Oil, Purple Carrot Juice Concentrate, Natural Strawberry Flavour | Flavor: Strawberry flavor | Price: ₱599
While collagen powders are usually flavorless and odorless, they come from fish. You cannot ignore them; some may have a distinct fishy aftertaste. Wellspring Collagen Gummies are a great option if you can't bear the taste changes that come with adding collagen to your beverages and food. It has a lovely strawberry taste that makes taking vitamins more enjoyable.
Collagen, fish marine collagen, and biotin, all at 500 milligrams each gummy, are the top three components for encouraging better skin, healing damaged skin, and keeping hair and nails strong.
Including this collagen supplement in your daily routine is an excellent approach to starting your collagen journey. You may be confident that ingesting this gummy collagen will not harm your skin. It has a high collagen concentration per serving, which makes your skin shine and radiant. It also improves joint health and enhances energy, helping you feel more active throughout the day!
Furthermore, its collagen, vitamin C, and biotin components promise to keep your skin looking bright, youthful, and healthy while preventing premature aging. Since you should only chew on one or two gummies daily, a P500 container of these candies should last you for at least a month! Worth it!
---
Belo Nutra Collagen Powered Drink
Website: Belo Med Shop | Product form: Powdered Drink | Core Ingredients: High-absorption Collagen (5000 mg per sachet) | Flavor: Melon Smoothie flavor | Shelf life: 24 months | Price: ₱979
Want to improve the smoothness and flexibility of your skin? Take a look at Belo's powdered collagen drink! Its high absorption composition penetrates deep into the layers of your skin. As a result, it may decrease the appearance of fine lines and restore your youthful glow.
To get the anti-aging effects of this melon-flavored collagen powder, sprinkle it into your favorite drink or consume it as is. This drink enhances your skin even when you are sleep-deprived, making you seem fresh every time! However, you should only consume one or two sachets daily to provide your body with the proper amount of collagen.
---
Reveal 30s Glutathione Capsule with Collagen by Herbs of the Earth
Website: Herbs of the Earth | Product form: Capsule | Core Ingredients: L-Glutathione, Collagen, Hyaluronic Acid, Niacinamide, Resveratrol | Flavor: Unflavored | Shelf life: 24 months | Price: ₱997
Reveal your radiance with this collagen capsule with a high-strength blend of 16 adequate skin nutrients. L-glutathione, collagen, niacinamide, hyaluronic acid, and resveratrol are all included in each capsule. In addition, the presence of vitamins C, A, and E in it aids in maintaining your skin's natural shine and suppleness.
Since it is anti-aging collagen, it targets wrinkles, fine lines, stretch marks, and minor skin blemishes. Its anti-aging component quickly hydrates and revives the skin, revealing its benefits after only a few weeks.
You may undoubtedly have whiter skin with its glutathione and niacinamide components. You may get bright, vibrant, healthy, and plump skin with its 16 high-potency skin nutrients.
---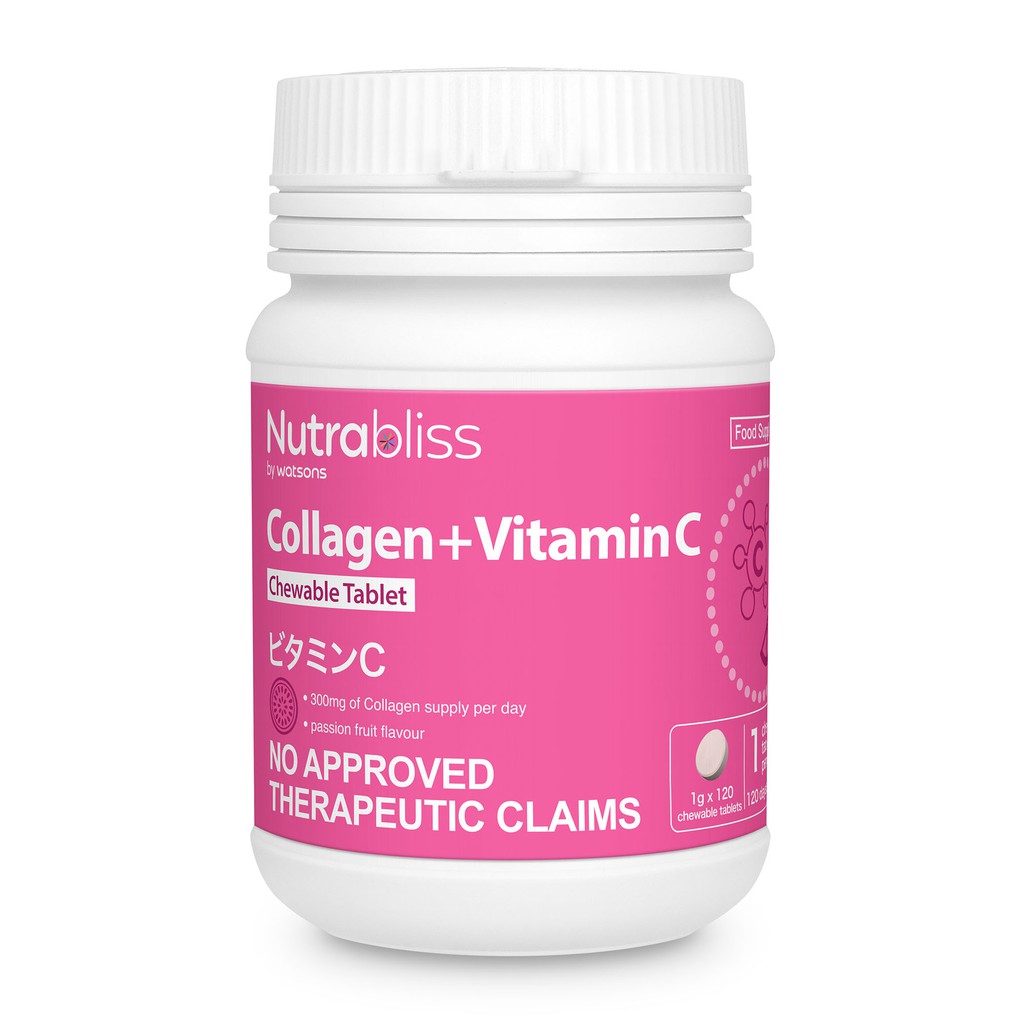 Naturalbliss Collagen Food Supplement with Vitamin C
Product form: Tablets | Core Ingredients: Sucrose, Collagen, D-Mannitol, Ascorbic Acid (Vitamin C), Polyvinylpyrrolidone, Passion Fruit Flavor Powder, Magnesium Stearate | Flavor: Passion Fruit Flavor | Price: ₱1999
These passionfruit-flavored chewable pills bring out your inner glow, eliminate fine wrinkles, and preserve your skin. Though it contains less collagen, it makes up for it with vitamin C, which helps the body create more collagen naturally.
Naturalbliss Collagen Food Supplement fortifies the immune system, protecting us from germs, viruses, and other disease-causing organisms. It keeps our bloodstream clean and nutrients flowing freely throughout our bodies. For busy people, tablets are simpler to chew and swallow.
---
JOJU Collagen Tablets
Product form: Tablet | Core Ingredients: Wellnex Fish Collagen Dipeptide, L-Glutamine, L-Cysteine, L-Glycine, Zinc Amino Acid Chelate, Ceravite Rice Extract | Flavor: Unflavored | Price: ₱249
Yes, collagen costs are often high, but this one from Joju will save you money without sacrificing the quality and efficacy of collagen. Since it is a dipeptide, your body can easily absorb it. Joju Collagen Tablet has a high concentration of proline, hydroxyproline, and glycine amino acids, aiding collagen formation.
Thailand is also one of the Asian nations that produces high-quality beauty goods. The Joju Collagen Tablet is a one-of-a-kind collagen dipeptide that hydrates, strengthens, and whitens your skin and body. It not only provides collagen but also increases your body's collagen synthesis. This collagen supplement will keep you constantly moisturized and free of dry skin.
Beauti Drink Collaskin Collagen
Website: Beauti Drink PH | Product form: Liquid Drink | Core Ingredients: Collaskin (2,000 milligrams) imported from Japan, Snow mushroom extract, Zinc, Vitamin C and E | Flavor: Collaskin | Shelf life: 8 months | Price: ₱1,329 for 24 x 360-ml bottles
SAPPE is a brand that creates and sells one-of-a-kind beverage products or functional beverages to health and beauty-conscious customers. The Collaskin Beauti Drink is their newest sugar-free, low-calorie product. It includes twice as much high-quality collagen (2,000 mg) from Japan as other supplements.
Furthermore, adding snow mushroom extract distinguishes it from other collagen supplements since this component has a similar molecular structure to hyaluronic acid and acts as a moisturizer for increased skin smoothness and wrinkle reduction. And we love that this collagen juice is available nationwide at every 7-Eleven convenience shop!
---
Obvi Super Collagen Protein Powder
Website: Obvi Philippines | Product form: Powdered Pre Workout Drink | Core Ingredients: Collagen Peptides, Vitamin C, Vitamin E, Biotin, Calcium, etc. | Flavor: Unflavored | Price: ₱1,700
When we speak about self-care, we do not just mean one portion of the body but the whole body. The good news is that Obvi's collagen powder promotes general health and well-being. For instance, fellow gym rats can cop the Obvi Super Collagen Protein Powder. It ensures that your body receives the nutrition it needs to operate correctly.
This protein collagen drink contains biotin, vitamins C and E, calcium, magnesium, iron, and phosphorus. These nutrients are necessary for good intestinal health, healthy hair and nails, strong bones, and young skin.
Since the powder comes from grass-fed and pasture-raised bovine hides, each drink contains high-quality and sustainable collagen. Best of all, it comprises hydrolyzed collagen, which the body readily absorbs.
---
Vital Proteins Collagen Peptides
Website: Belo Med Shop | Product form: Powder | Core Ingredients: Bovine hide collagen peptides, hyaluronic acid (sodium hyaluronate), vitamin C (ascorbic acid) | Flavor: Unflavored | Price: ₱799 to ₱3,190
Yes, collagen peptides are available in powder form, but all their components are concentrated and effective. Its main ingredients are collagen peptides from the bovine hide, hyaluronic acid (sodium hyaluronate), and vitamin C (ascorbic acid).
Combining these three high-quality nutrients results in the best plumping and hydrating of the skin. Furthermore, this protein called collagen might help you sleep deeply and peacefully.
As we age, it is critical to take a collagen supplement to help heal our damaged skin and give us tighter skin. These Vital Proteins Collagen Peptides efficiently increase skin elasticity and dryness if you seek a go-to collagen regimen to add to your smoothie or coffee. Not only that, but it also strengthens our hair and nails. You may have a young look and maintain strong bones and joints with only one scoop a day.
---
Collagen Plant-Based Capsules by Sunwarrior
Website: Sunwarrior | Product form: Capsules | Core Ingredients: Organic Sea Buckthorn, Panax Korean Ginseng Root Extract, Pomegranate Extract, Asparagus, Okra, Coffeeberry Extract, Quercetin, Acerola, Camu Camu, Açai Berry, And Mangosteen | Flavor: Unflavored | Price: ₱1,120
When looking for plant-based supplements, the possibilities remain restricted. Fortunately, Sunwarrior's collagen capsules are certified vegan and thoroughly studied to guarantee that you only receive the highest quality product.
These pills may restore your skin by promoting cell regeneration and improving skin suppleness. Taking one capsule daily may help repair sun-damaged skin if you spend a lot of time outside. Furthermore, this product contains no animal hooves, horns, or skins, making it suitable for vegetarians.
---
Final Verdict
Collagen is not as magical as the internet makes it out to be, but it is still really excellent. It may benefit the skin, joints, bones, and muscles. Choose a high-quality collagen supplement from a GMP-certified firm that, preferably, has third-party testing on its goods.
If you are only starting to dabble in collagen, we recommend any unflavored item on our list. Furthermore, the Wellspring Collagen Gummies are our top choice for busy people who do not have the time to prepare a drink every day.
Read more: