Virtual wallets and online payment apps such as GCash are incredibly convenient. You can use it to send or receive money, transfer money from and to your bank accounts, manage credit, save, invest in stocks, purchase insurance, etc. It also makes online payments for bills, online purchases, prepaid mobile phone loading, RFID loading, etc., quick and easy. However, since the Philippines is still far from being a cashless economy, you will still have to carry cash with you wherever you go.
So how do you withdraw your money from GCash? Easy. Here are three ways how to cash out Gcash.
Cash out Via Bank Transfer
Bank Transfer: From GCash to your Bank Account
This is the easiest and most common way of cashing out your Gcash account, simply because there is no shortage of ATMs in the country.
GCash's bank transfer feature is easy and quick too; you can receive the money in an instant. You have to make sure your GCash account is verified for your bank to use. Meaning, you should have completed the verification process already.
To send or transfer money to your own bank account, you need to provide the account name and account number where you want to transfer the money.
Here's a step-by-step guide:
Login to your GCash account through the app
Click the Transfer icon
The next window will show the list of GCash's partner banks
Click your bank's icon. If your Bank isn't on the page, click the View All icon
Then, enter the required details (Acct name, acct number, and amount). You can input your email address to get a copy of the transaction. Click the "Send Money" icon once completed.
This will lead you to the confirmation page where you will review the details of the transaction. Make sure you double-check the details. Click "Confirm" when you are ready.
Voila! That's it, the money is in your bank account and ready for ATM withdrawal. All you have to do is find an ATM near you to get your money.
Notes to remember
GCash bank transfer is instantaneous, meaning your money should be in your receiving bank account as soon as you complete the transaction in GCash. If that doesn't happen, you must contact GCash as soon as possible using the chat option in the GCash app and inquire about the transaction. You can also submit a support ticket on the app. Simply type in "I want to submit a ticket".
You can also contact their hotline number 2882 toll-free via Globe/TM mobile phone or their landline number 7392-2882 via telephone or other networks.
Unfortunately, while GCash has a Facebook page, they don't offer customer assistance through social media for customer privacy protection.
Also, note that the maximum amount you can transfer per transaction is Php 50,000.
GCash also deducts a convenience fee of Php 15 from your account for every completed transaction. So make sure you have enough funds in your account before making any bank transfer.
Cash out Via GCash Mastercard
Another convenient way to get cash out from your GCash is through a GCash Mastercard. The GCash card is as good as a debit card or credit card. You can use it to shop online and in-store, and cash out using GCash ATMs nationwide or through BanCNet or Mastercard-affiliated machines.
Get your GCash MasterCard from the GCash website or through the app itself.
Since the GCash MasterCard works like a regular ATM card, you can use it to withdraw your money from any ATM. Simply put in your PIN and the amount that you want to withdraw. Also, a bank withdrawal fee applies (Php 15 to Php 18 per withdrawal transaction, depending on the bank).
How to cash out gcash in 7/11
Can't find an ATM nearby? Find the nearest GCash partner outlet for over-the-counter cash-out. GCash has a long list of partner outlets nationwide, from convenience stores, department stores, supermarkets, pawnshops, payment facilities, etc. Here's the list of GCash's partner channels.
Convenience Store:
Department Store:
Payment Facilities:
Expresspay
Posible
Truemoney
Pawnshop:
Perahub
Jaro Pawnshop
Tambunting
Villarica
Supermarket:
The steps and requirements for over-the-counter money withdrawal for all of their partner channels are pretty much the same. Simply inform the cashier that you would like to make cash out in your GCash account. Then, provide the details for the transaction (the amount you would like to cash out, GCash mobile phone number) and present a valid I.D.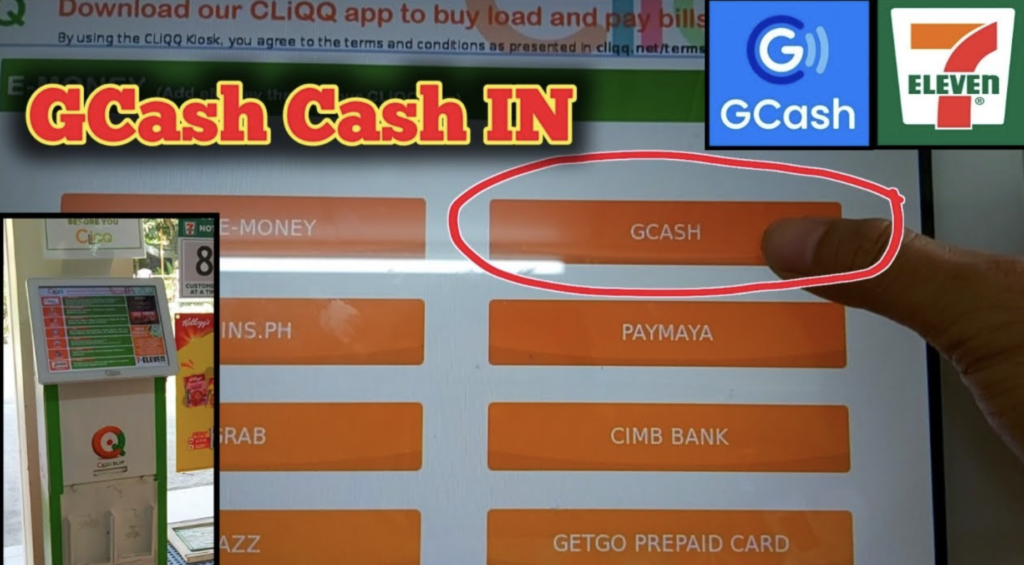 An SMS will be sent to your mobile phone number to confirm the cash-out.
Then, reply using the One-Time Password (OTP) to confirm the transaction. Then receive the money from the cashier. It's that simple!
There you have it, three ways to cash out GCash.