How to Verify Your SSS Number
Social Security System (SSS) is one of the government-mandated benefits for Filipinos. Getting an SSS number online has been introduced a few years ago. Even though this method made the application processing substantially quicker, it did not eliminate the need to visit neighboring SSS branches to complete the application. The same case applies when you want to verify your SSS number.
What to do if you fail to remember your SSS number? Well, it's undeniably easy to forget our SSS numbers. This is the problem of many SSS members nowadays.
You may not realize how significant your SSS number is. You need it not just to set up your My.SSS online account, but also to make use of all the benefits granted to regularly paying SSS members. SSS members should remember their SSS numbers in order to access their personal information, request loans, or receive benefits in the event of illness, unemployment, disability, maternity, retirement, or death, whether they do so online or offline. You also need this number in addition to SSS if you apply for a new job, open a bank account, or conduct business with other government organizations.
However, some people still have forgotten their SSS number since it is a ten-digit combination and they have misplaced their SSS IDs. On the other hand, others have lost duplicates of their social security cards.
Fortunately, if you forget your SSS number, you don't need to apply for a new one. Instead, you can confirm it by utilizing one of the strategies covered in this article.
Ways to Verify Forgotten or Lost SSS Numbers
Members may quickly monitor their contributions, apply for SSS salary loans, make requests for SSS benefits, or create PRN for contribution/loan payments using the My.SSS or SSS website without ever leaving their homes.
As soon as you connect to your account, you may easily access your SSS number. If you already have a My.SSS account, complete these simple steps to retrieve your SSS number:
Verify Through My.SSS Account
Visit the SSS's official website.
Click "Submit" after providing a CAPTCHA solution.
Choose the MEMBER portal on the right side of the page if you are an individual member or the EMPLOYER portal if you are an employer.
Use your user ID and password to log in.
Once you log into your account, your SSS number will be visible in the top left corner of the website, just after your name and before your CRN number.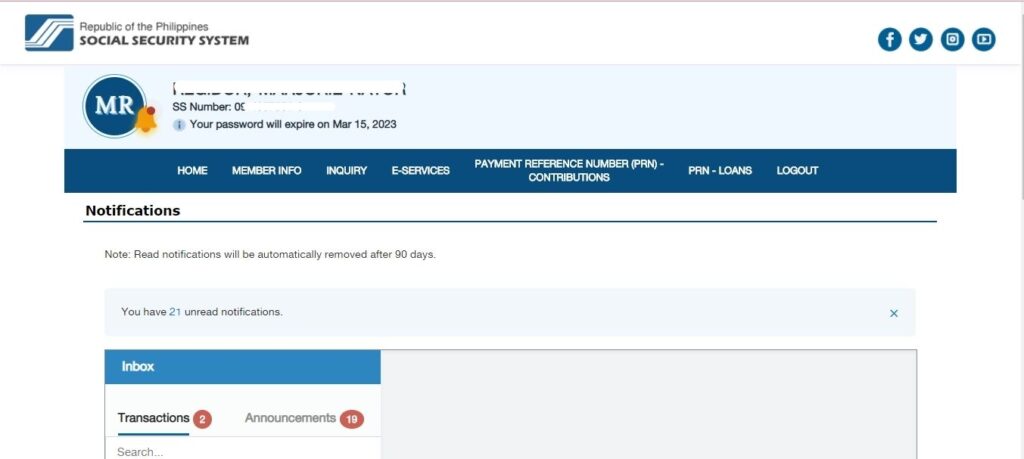 As an alternative, if you don't have a PC, you can use the SSS Mobile app to access your My.SSS account. Follow these instructions if you'd want to verify your SSS number on your phone:
On your smartphone, install the SSS Mobile app.
Use the same user ID and password to sign in as you would access your My.SSS account on a computer or laptop.
Your SSS number is displayed prominently at the top of the screen after you log in to the newly updated SSS Mobile app.
Verify Through SSS Customer Support
If you want to make life easier, you can directly contact online SSS customer support. You can send an email to the official email address of the Social Security System customer assistance at member_relations@sss.gov.ph.
Verify by Checking your SSS E1 Form E-4 Form
You can locate your SSS number handwritten on the upper right corner of your E-1 form if you applied for one in 2015 or earlier and still have a copy of it.
The SSS E-1, or Personal Record form, provides the name, address, civil status, and beneficiaries of the new member. This used to be given to new members once they successfully registered at the SSS office. However, as SSS registrations and other activities have already moved to the internet environment, members who enrolled in more recent years are probably not in possession of a printed copy of this form.
The SSS E-4 (Member Data Change Request) form is another document where you may check your SSS number. Members can seek changes to their SSS membership information, such as name, date of birth, civil status, beneficiary, or contact details, using this form.
You will be handed a personal copy of the E-4 form after delivering it personally to the nearby SSS branch, which you most likely already have if you actually requested a change.
Verify Through SSS Contributions Payment Form (RS-5)
These days, you may conveniently pay your SSS contributions from your phone. However, earlier when there weren't many options for online payment, members were forced to manually pay their payments at the closest SSS location.
It's likely that you were able to save a few copies of the SSS Payments Payment Form if you used to routinely make your contributions in the usual manner. A personal or payor's copy of this form is sent to members who use it to make monthly, quarterly, semi-annual, or yearly payments so that records can be kept. The SSS number may be seen on two separate areas of this form, assuming you are able to collect a few copies of it. The machine-validated SSS number is located in the upper right corner.
Verify through SSS Hotline
For questions, support, and assistance, SSS members can call the SSS hotline (SSS Call Center) at 920-6446 to 55. So, if you happen to forget your SSS number, you may try reaching out to their hotline. You can also contact the following numbers:
Member Electronic Services Department: 8-9206401 to 45 local 5971, 5966, 6449, 5240, 6092, and 5968.
Toll-Free Number: 1-800-10-2255777 (1-800-10-CALLSSS).
Note that if you're calling from a mobile phone, you must include area code 2 before the 8-digit number (e.g., 28920-6401). The SSS hotlines are only available from Mondays to Saturdays, 7 AM to 7 PM. Be sure to reach out in between those mentioned hours.
Verify Through Your HR Department or Employer
Your records, including your SSS number used by the company to send your contributions, are kept by the HR or admin. Unless you're dealing with a non-compliant firm, the HR department should have your number on file because it is legal for employers to regularly remit their employees' SSS contributions.
Simply give the human resources department a call or send an email to request that they validate your SSS number using this approach. If you are presently working, this shouldn't be a problem because HR departments are frequently more receptive to their active employees.
Verify by Visiting SSS Member's Assistance Section
To check your SSS number, visit the nearest SSS branch office. Locations are open Monday through Friday, excluding federal holidays. This SSS branch directory may be used to find the closest SSS branch to you.
You must provide at least two current, unexpired IDs (with a photo and your signature) in order to have your SSS number verified. In order to monitor, examine, and double-check your SSS contribution records, you may also ask for a copy of your SSS employee static information.
Now that you are aware of your SSS number, maintain a record of it. Additionally, I advise acquiring an SSS UMID Card (it's free) so you may carry your social security card at all times.
One of the most popular forms of official identification in the Philippines is the SSS UMID Card. Having one is crucial and beneficial.
Last but not least, you may also verify your company/employee ID because some businesses publish their employees' SSS numbers for fast access to this identity card.
In a Nutshell
Hoping that this article helps you in retrieving your SSS number. Furthermore, you can keep your SSS number in a free note-taking app or a password manager with a note-taking option to guard against forgetting or losing it in the future. For your PhilHealth number, Pag-IBIG number, TIN, and other government membership identification numbers, you can follow the same procedure.